Opening hours
Week 34
Monday
–
Staff present
11:00 – 19:00
Tuesday
–
Staff present
11:00 – 19:00
Wednesday
–
Staff present
11:00 – 19:00
Thursday
–
Staff present
11:00 – 19:00
Friday
–
Staff present
11:00 – 16:00
Saturday
Closed
Sunday
Closed
Week 35
Monday
–
Staff present
11:00 – 19:00
Tuesday
–
Staff present
11:00 – 19:00
Wednesday
–
Staff present
11:00 – 19:00
Thursday
–
Staff present
11:00 – 19:00
Friday
–
Staff present
11:00 – 16:00
Saturday
Closed
Sunday
Closed
Week 36
Monday
–
Staff present
11:00 – 19:00
Tuesday
–
Staff present
11:00 – 19:00
Wednesday
–
Staff present
11:00 – 19:00
Thursday
–
Staff present
11:00 – 19:00
Friday
–
Staff present
11:00 – 16:00
Saturday
–
Staff present
11:00 – 14:00
Sunday
Closed
Week 37
Monday
–
Staff present
11:00 – 19:00
Tuesday
–
Staff present
11:00 – 19:00
Wednesday
–
Staff present
11:00 – 19:00
Thursday
–
Staff present
11:00 – 19:00
Friday
–
Staff present
11:00 – 16:00
Saturday
–
Staff present
11:00 – 14:00
Sunday
Closed
Week 38
Monday
–
Staff present
11:00 – 19:00
Tuesday
–
Staff present
11:00 – 19:00
Wednesday
–
Staff present
11:00 – 19:00
Thursday
–
Staff present
11:00 – 19:00
Friday
–
Staff present
11:00 – 16:00
Saturday
–
Staff present
11:00 – 14:00
Sunday
Closed
Week 39
Monday
–
Staff present
11:00 – 19:00
Tuesday
–
Staff present
11:00 – 19:00
Wednesday
–
Staff present
11:00 – 19:00
Thursday
–
Staff present
11:00 – 19:00
Friday
–
Staff present
11:00 – 16:00
Saturday
–
Staff present
11:00 – 14:00
Sunday
Closed
Week 40
Monday
–
Staff present
11:00 – 19:00
Tuesday
–
Staff present
11:00 – 19:00
Wednesday
–
Staff present
11:00 – 19:00
Thursday
–
Staff present
11:00 – 19:00
Friday
–
Staff present
11:00 – 16:00
Saturday
–
Staff present
11:00 – 14:00
Sunday
Closed
Week 41
Monday
–
Staff present
11:00 – 19:00
Tuesday
–
Staff present
11:00 – 19:00
Wednesday
–
Staff present
11:00 – 19:00
Thursday
–
Staff present
11:00 – 19:00
Friday
–
Staff present
11:00 – 16:00
Saturday
–
Staff present
11:00 – 14:00
Sunday
Closed
Week 42
Monday
–
Staff present
11:00 – 19:00
Tuesday
–
Staff present
11:00 – 19:00
Wednesday
–
Staff present
11:00 – 19:00
Thursday
–
Staff present
11:00 – 19:00
Friday
–
Staff present
11:00 – 16:00
Saturday
–
Staff present
11:00 – 14:00
Sunday
Closed
Week 43
Monday
–
Staff present
11:00 – 19:00
Tuesday
–
Staff present
11:00 – 19:00
Wednesday
–
Staff present
11:00 – 19:00
Thursday
–
Staff present
11:00 – 19:00
Friday
–
Staff present
11:00 – 16:00
Saturday
–
Staff present
11:00 – 14:00
Sunday
Closed
Week 44
Monday
–
Staff present
11:00 – 19:00
Tuesday
–
Staff present
11:00 – 19:00
Wednesday
–
Staff present
11:00 – 19:00
Thursday
–
Staff present
11:00 – 19:00
Friday
–
Staff present
11:00 – 16:00
Saturday
–
Staff present
11:00 – 14:00
Sunday
Closed
Week 45
Monday
–
Staff present
11:00 – 19:00
Tuesday
–
Staff present
11:00 – 19:00
Wednesday
–
Staff present
11:00 – 19:00
Thursday
–
Staff present
11:00 – 19:00
Friday
–
Staff present
11:00 – 16:00
Saturday
–
Staff present
11:00 – 14:00
Sunday
Closed
May 20, – August 31,:
Lehtilukusali avautuu arkisin (ma - pe) tuntia ennen kirjaston avautumista. Kesälauantaisin, kun kirjasto on suljettu, myös lehtilukusali on kiinni. Lehtilukusalissa on jatkuva ja täydentyvä Veteraaniperinnenäyttely.
September 1, – May 18, 2020:
The newspaper reading room opens on weekdays (Mon - Fri) one hour before the library. In the summer, on Saturdays, when library is closed, also newspaper reading room is closed. There is a permanent and updating exhibition on Veteran tradition /heritage in the newspaper reading room.
Photos (2)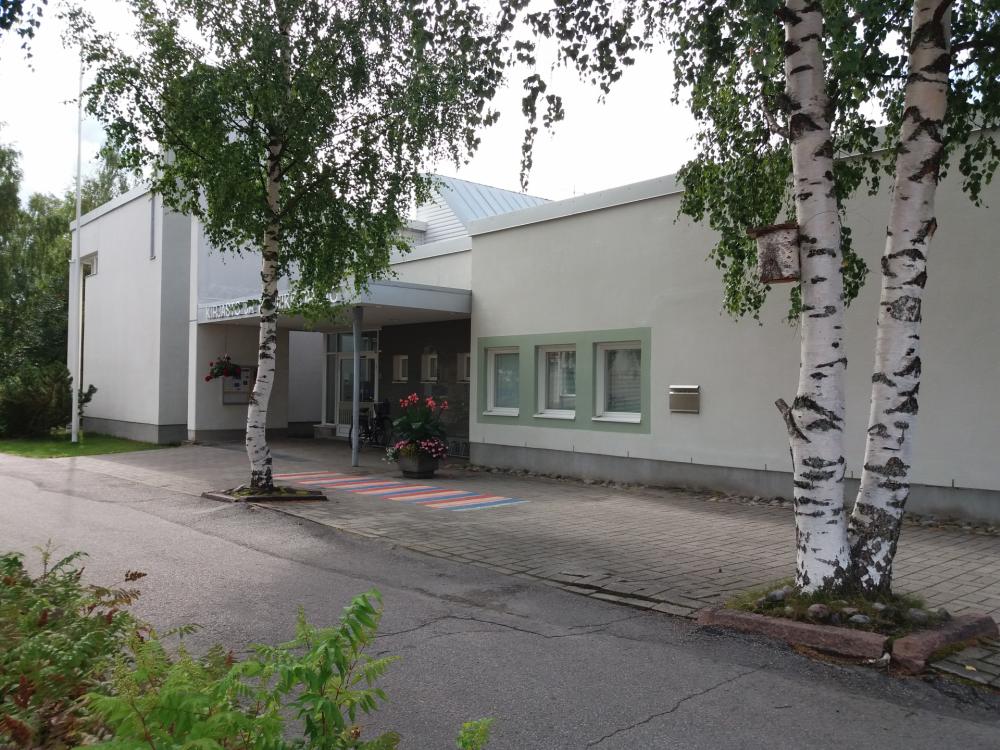 Building information
Established year

1983

Building

Sievin kunnankirjasto ja musiikkiopisto

Built

1993

Architect

Pekka Paavola